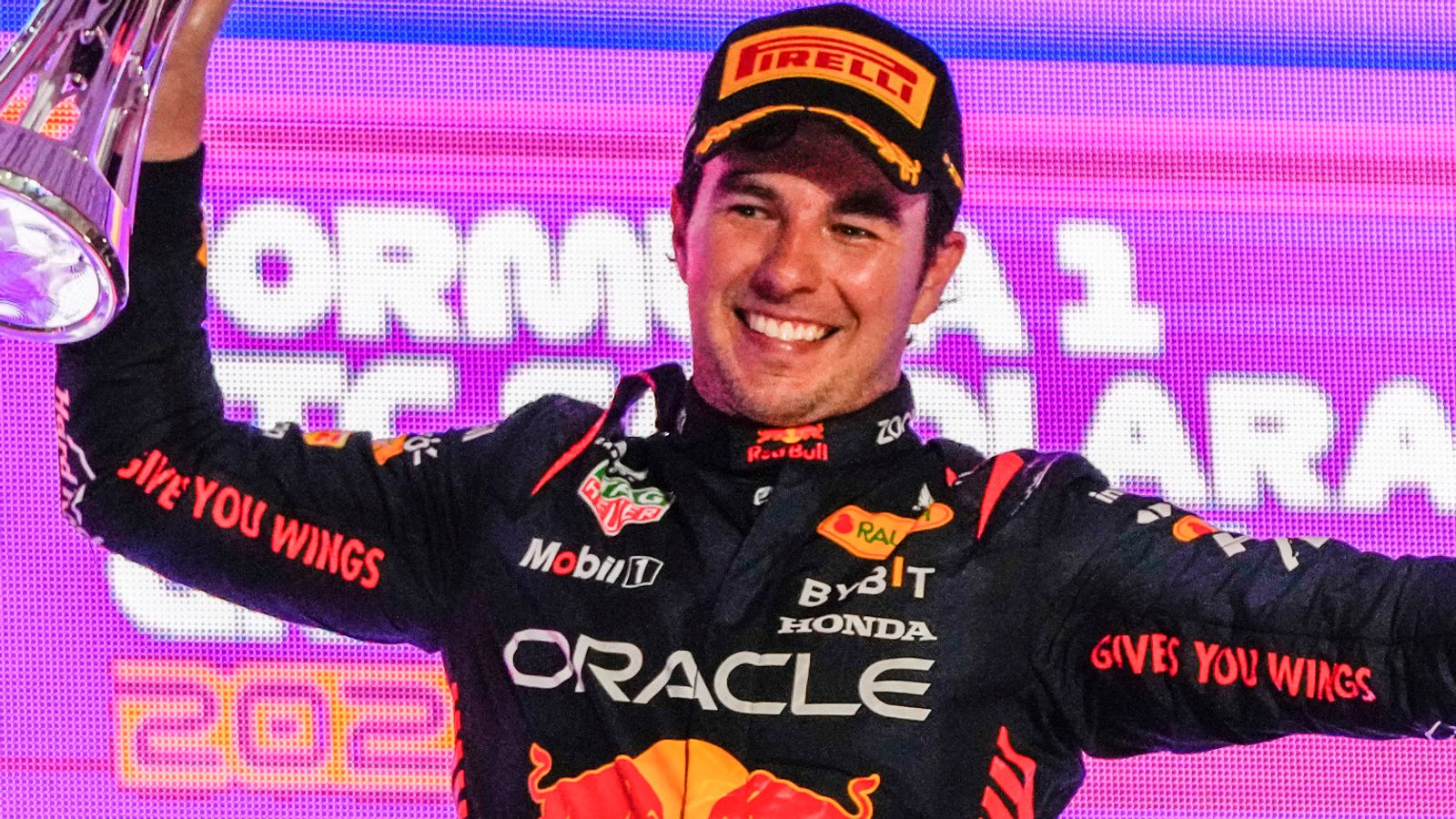 Sergio Perez leads home team-mate Max Verstappen to seal Red Bull one-two in Jeddah; Verstappen recovered from 15th on the grid to push his team-mate to the end; Mercedes' George Russell promoted to third after Aston Martin's Fernando Alonso receives 10-second penalty after the race
By Sam Johnston in Jeddah
Last Updated: 19/03/23 7:11pm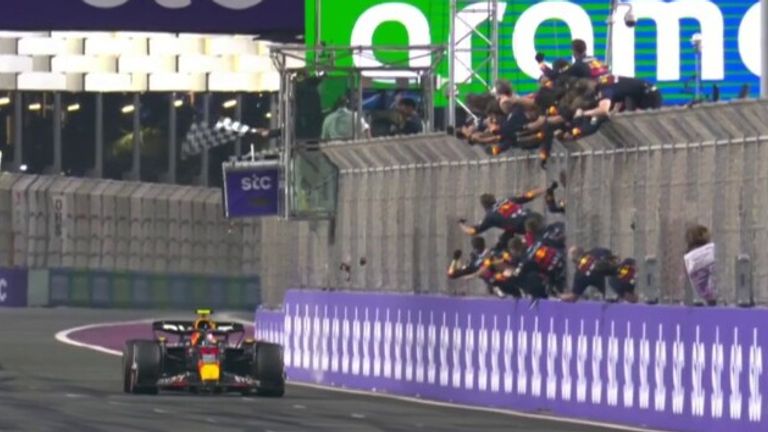 Red Bull driver Sergio Perez takes the win at the Saudi Arabian Grand Prix, with team-mate Max Verstappen following behind.
Sergio Perez impressively held off team-mate Max Verstappen's charge from 15th on the grid to seal a Red Bull one-two at the Saudi Arabian Grand Prix.
A technical failure in qualifying had left Verstappen with only faint hopes of victory, but he looked in with a strong chance when a safety car helped him move up to second and within six seconds of his team-mate before the race reached its halfway stage.
However, Perez, who had only claimed three wins in his two previous seasons as the Dutchman's team-mate, produced a hugely composed display to hold his advantage as Red Bull claimed a one-two for the second time in as many races this season.
Fernando Alonso appeared to have taken his second successive podium after finishing third, but Mercedes' George Russell was promoted above the Aston Martin after the Spaniard was handed a 10-second penalty after the race for incorrectly serving an earlier five-second penalty he had incurred for starting in a wrong position.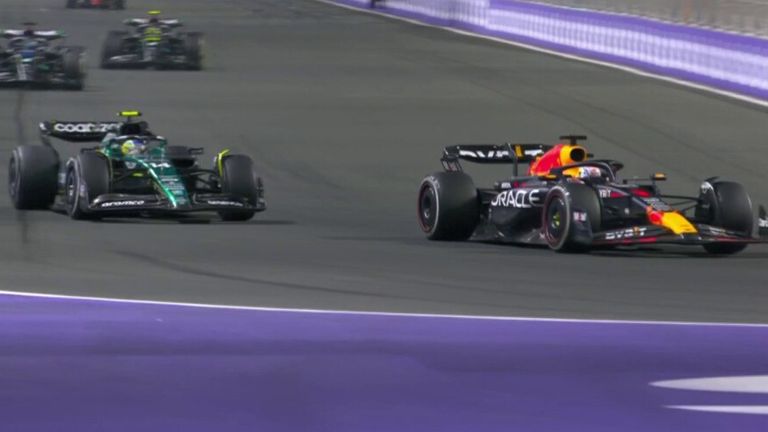 Red Bull driver Max Verstappen secured P2 after overtaking Aston Martin driver Fernando Alonso at the Saudi Arabian Grand Prix.
Alonso led into the first corner after beating pole-sitter Perez off the line, but was soon overtaken by a Red Bull car that he simply didn't have the pace to compete with. Alonso had started the race too far to the left of his pit box, and his second infringement came because the rear jack was in contact with the back of his car while he served his penalty during his pit stop.
Russell finished on track directly ahead of Lewis Hamilton, having ignored instructions over team radio to let his team-mate past him after the safety car had left the seven-time world champion on a more favourable tyre, and with a theoretically better chance of chasing down Alonso.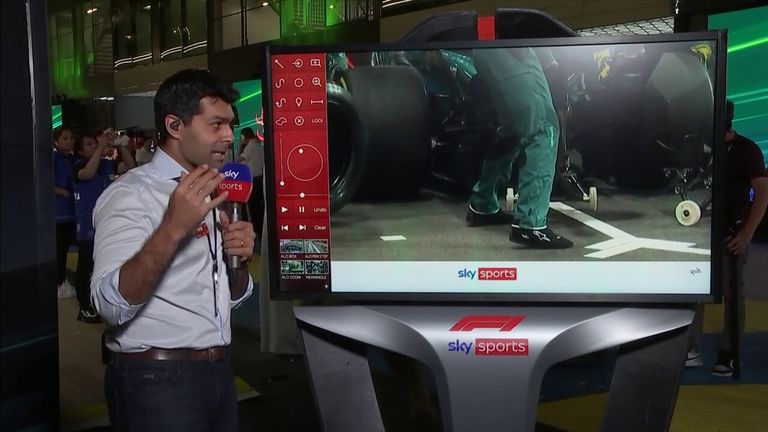 Sky F1's Karun Chandhok analyses why Fernando Alonso received a post-race penalty at the Saudi Arabian Grand Prix.
However, Russell appeared to justify his decision by opening a gap to Hamilton, as the Mercedes cars came home comfortably in front of Ferrari duo Carlos Sainz and Charles Leclerc, who was left angry with his team-mate after feeling he had not received the correct instructions under the safety car.
Esteban Ocon finished eighth ahead of team-mate Pierre Gasly to complete a strong afternoon for Alpine, while Kevin Magnussen produced a late overtake to snatch the final point from AlphaTauri's Yuki Tsunoda.
Saudi Arabian GP Race Result
1) Sergio Perez, Red Bull
2) Max Verstappen, Red Bull
3) George Russell, Mercedes
4) Fernando Alonso, Aston Martin
5) Lewis Hamilton, Mercedes
6) Carlos Sainz, Ferrari
7) Charles Leclerc, Ferrari
8) Esteban Ocon, Alpine
9) Pierre Gasly, Alpine
10) Kevin Magnussen, Haas
Perez shows street circuit pedigree again
Verstappen, who is chasing a third successive drivers' title and completely dominated the opening Grand Prix of the season in Bahrain earlier this month, had been a hugely heavy favourite heading into qualifying after topping all three practice sessions at the Jeddah Corniche Circuit.
The Dutchman's dominant form was such that he remained second favourite – and only marginally behind Perez – to win Sunday's race despite starting in 15th after a driveshaft failure saw him make a shock exit from Q2 on Saturday.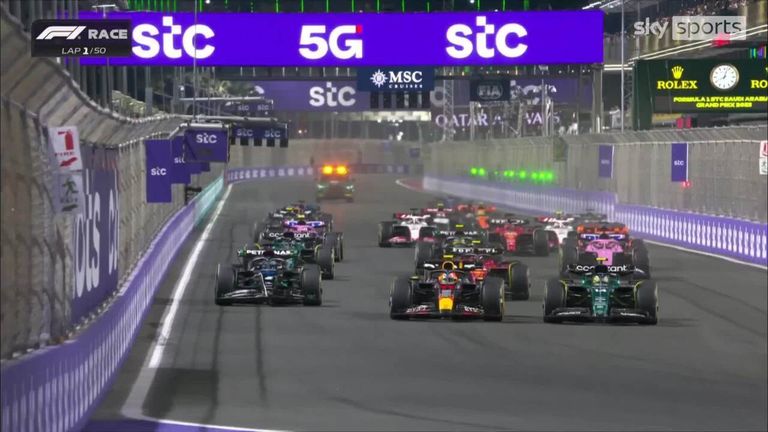 Fernando Alonso leads the Saudi Arabian Grand Prix with Sergio Perez following shortly behind.
While Perez was briefly held up as he lost out to Alonso at the start, an area of the race that is a clear weakness of his, Verstappen made steady progress through the field.
As the first round of pit stops approached, Perez had opened up a 20-second gap to Verstappen, who had made it up to seventh at that point.
However, the Mexican's advantage was snatched away from him when a technical failure on Lance Stroll's Aston Martin brought out a safety car on lap 18, leaving the front-runners to all come into the pits before bunching up together once the track was cleared.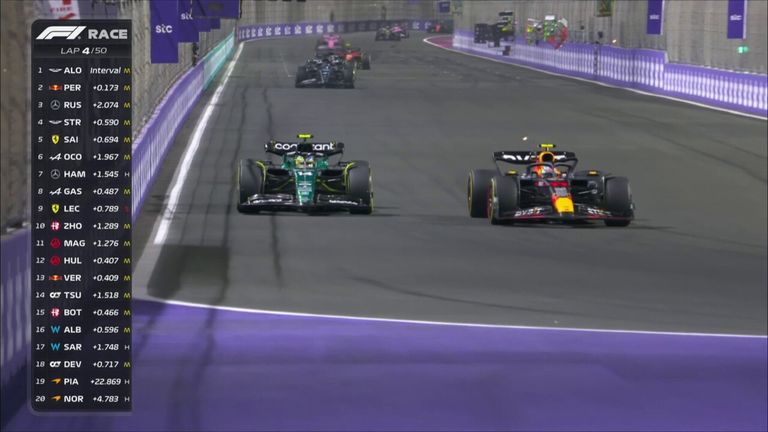 Sergio Perez snatched back the lead from Fernando Alonso at the Saudi Arabian Grand Prix.
As soon as DRS was enabled after the restart, Verstappen eased past Russell and Alonso to move directly behind his team-mate, with half the race still remaining.
Given Verstappen had appeared significantly quicker than his team-mate throughout the weekend, most expected him to cruise into the lead, but Perez, who has now claimed four of his five F1 victories at street circuits, was able to maintain his five-second advantage.
Verstappen complained over team radio in the closing stages that something was "wrong" with his car, but had enough pace to claim the extra point available for the fastest lap in the closing stages, which keeps him above Perez at the top of the world championship standings.
More to follow…