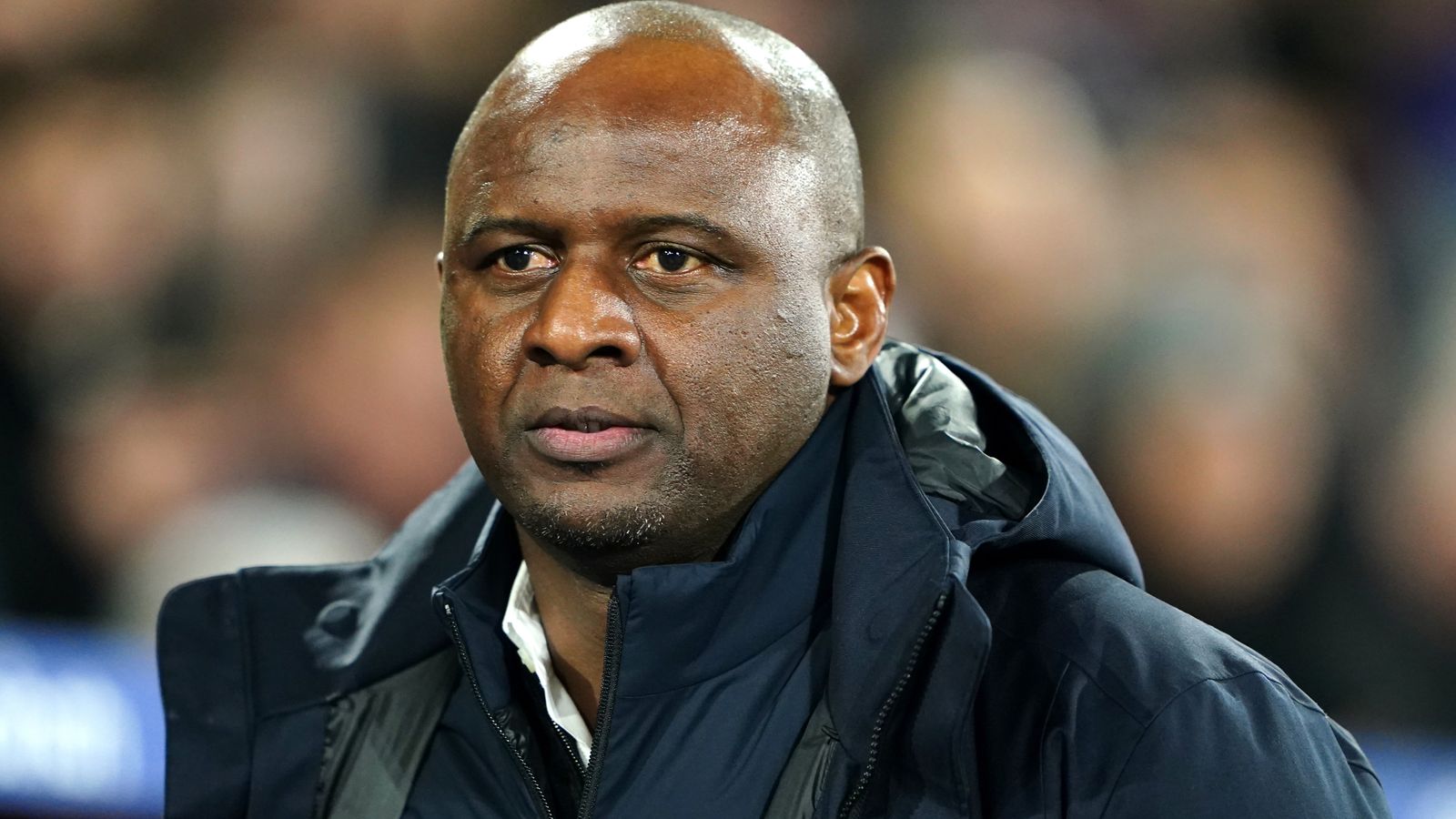 Crystal Palace have sacked manager Patrick Vieira after failing to win a game this year in any competition – but was it the right call?
Club chairman Steve Parish was careful to acknowledge the positive strides made under Vieira's tenure in the club statement accompanying his departure.
It read: "Patrick's impact since joining us in the summer of 2021 has been significant… playing some exciting football, which was a challenging and crucial campaign for the club – given the changes we made to the squad prior to his arrival."
The stats back that up: the Eagles recorded sizeable boosts across all attacking metrics in his first term at the helm, while pressing far more frequently and effectively higher up the pitch.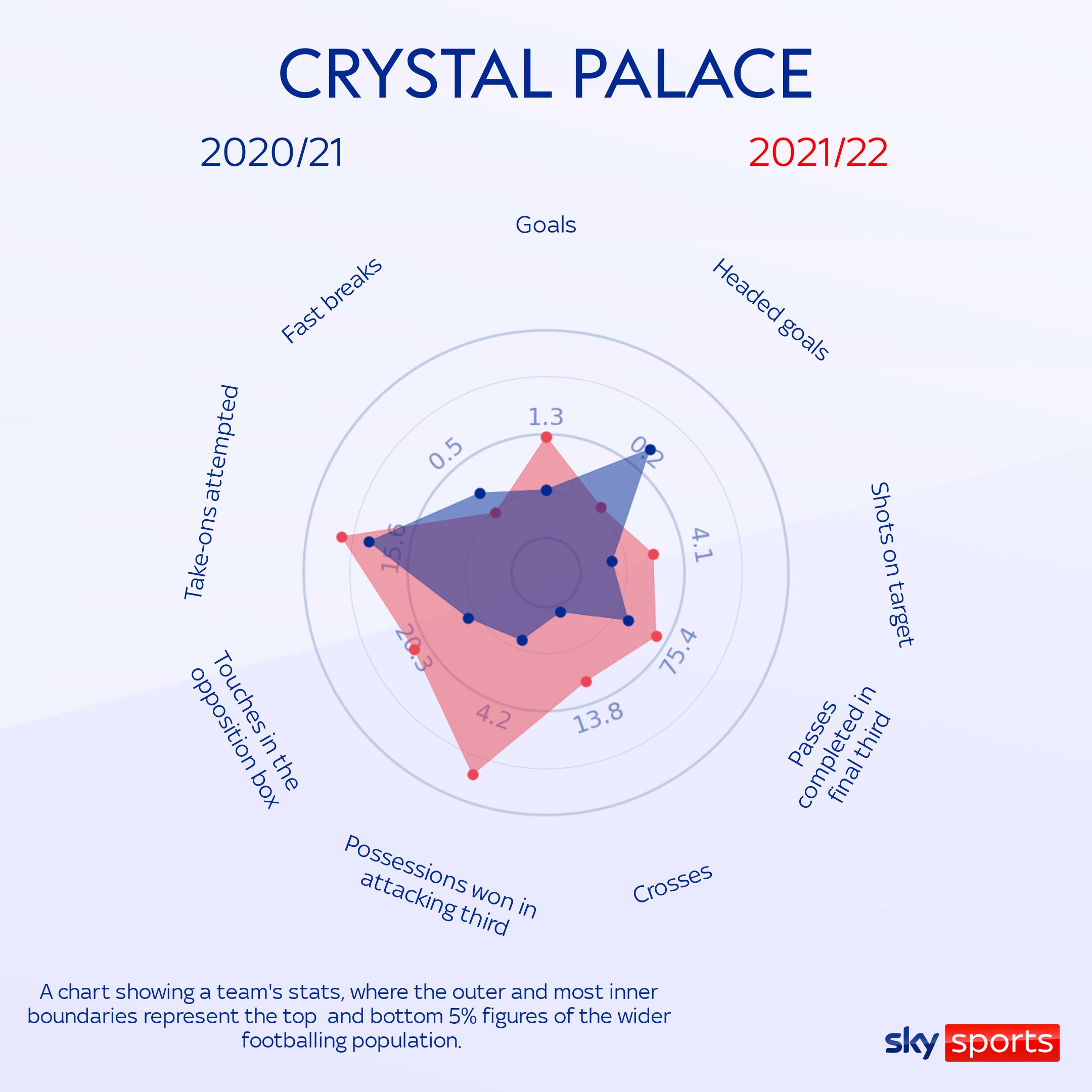 Chelsea loanee Conor Gallagher played a key role last season and Vieira struggled to fill the void when the England midfielder returned to Stamford Bridge in the summer.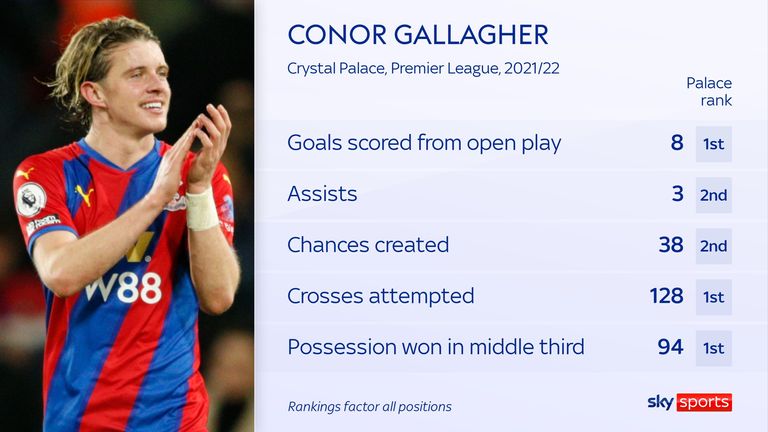 The hierarchy will also be aware of the transformation in the playing squad over this time, with a raft of older players leaving at the end of their expired contracts. In Roy Hodgson's final season at the team, the club had the oldest average starting XI in the Premier League, at 29 years and 213 days.
Fast forward 18 months, and that average is more than two years younger at 27 years and 114 days – the 11th youngest team in the division.
Among clubs that were in the Premier League across both seasons, only Southampton have reduced their age more drastically over that period.
Where did it go wrong?
The Eagles appeared to carry on where they left until the turn of the year with an impressive return of 1.38 points per game – but that ratio has been slashed threefold in 2023 as goals have dried up.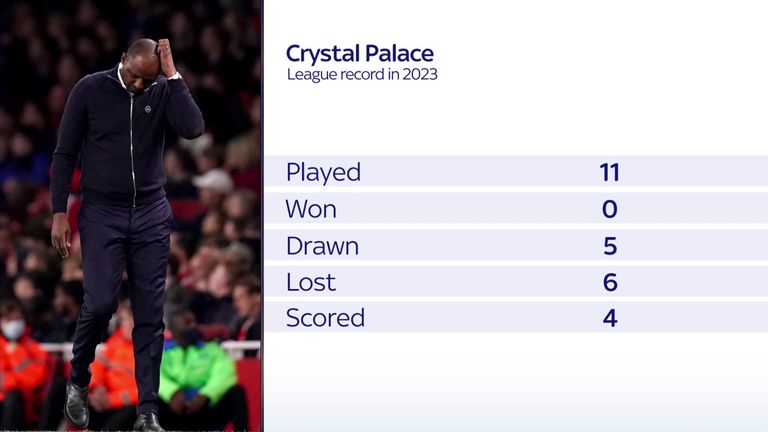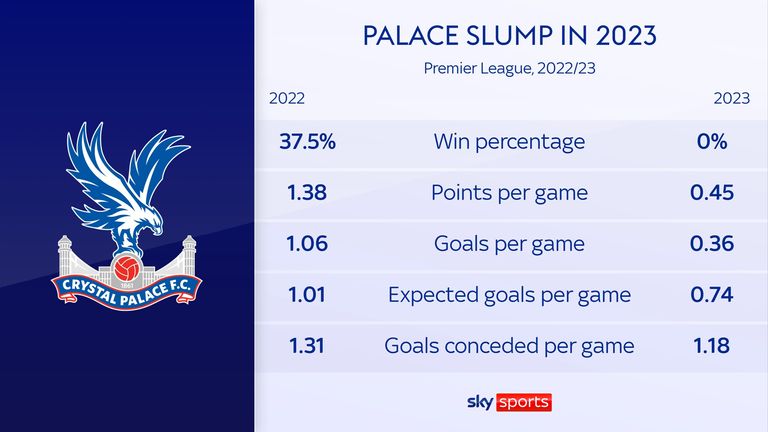 There were numerous warning signs: Palace rank bottom for distance covered this season, and it's a sizeable gulf. The chart below highlights how the Eagles typically run between 10km and 4km less than any other team.
It gets worse. The chart below reveals the average number of sprints recorded by teams per game, with Palace again rock bottom – adrift by a similar margin to their distance covered.
Only Wolves have a deeper style of play this term, meanwhile, a retreat which has arguably negated the progressive improvements from last season.
On average, the Eagles' passing sequences have started 1.84m deeper than last season – only Liverpool have dropped farther towards their own goal by a greater margin.
Ultimately, the vigour and endeavour had waned and the club's hierarchy is fully aware of just how tight the relegation battle is this term – just five points separate 12th-placed Palace and bottom side Southampton. Parish and the board have concluded that a new manager bounce is required.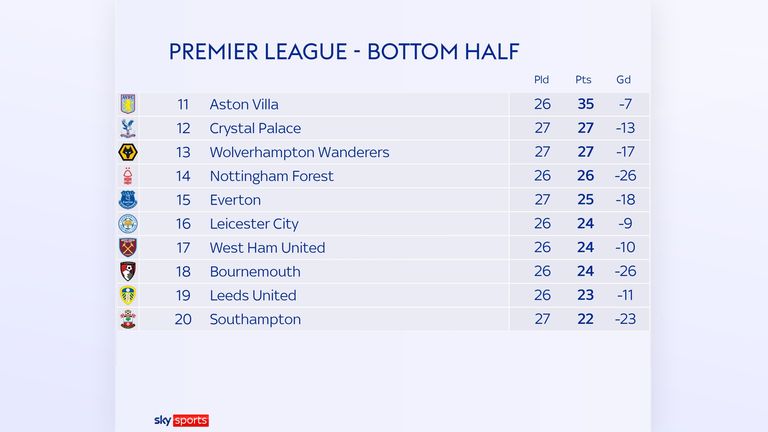 'Sacking Vieira a mistake – Zaha will be disappointed'
Former Crystal Palace striker Clinton Morrison speaking to Sky Sports News:
"For me, it's not the right call – I don't think he should have been sacked. I know the run they have been on is terrible – without a win since the New Year. But I speak to a lot of people at Palace, around the place there has been a lot of togetherness and that's down to Patrick.
"I know it's a results-based industry but the run of games they have had is ridiculous. After Arsenal, the next five or six games are all winnable. I would have stuck with him. I don't know which other manager can come in and turn it around.
"It is a tough job and I don't know who is out there. Someone like a Jesse Marsch? What Palace are used to under Patrick Vieira might be different to what a new manager comes in and implements.
"So it will take time and Palace don't have time. They're in a relegation battle, you need confidence and you need someone who is going to come in and lift the team. There will be someone, as you don't make rash decisions like sacking Vieira without having someone lined up.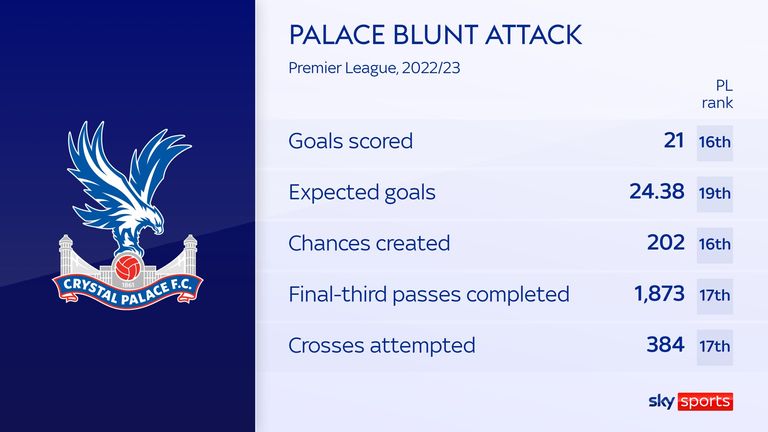 "I do believe the investment wasn't good enough in January, Vieira needed help in strengthening other areas.
"The biggest problem with Palace is scoring goals. They are too reliant on Wilfried Zaha and he's been injured for a bit recently. Other players need to step up, there are two players in Ebere Eze and Michael Olise who I think will go to the very top. I think Palace will stay up as they have talented players in the team.
"There are a lot of players who like Vieira, the harmony there is together. Zaha and Vieira had a brilliant relationship. I can't speak for him but he might be disappointed."